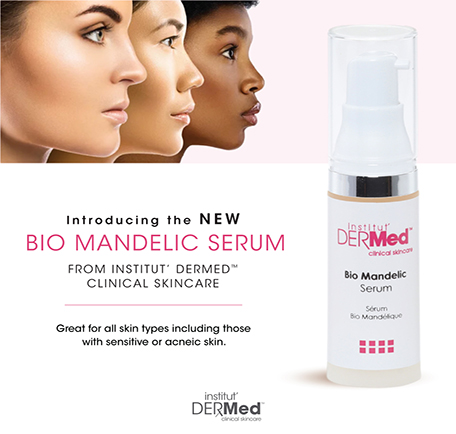 If you would like to experience
• Brighter Skin
• Decongested pores
• Diminished appearance of dark spots and uneven skin tone
• A smooth skin texture
• Diminished appearance of sensitive skin redness
………read on……….
Introducing the Bio Mandelic Serum

The New Bio Mandelic Serum from Institut' DERMed is designed to bring out your natural radiance with concentrated clinical-grade skincare ingredients for healthy skin aging. And the best part, it's suitable for all skin types!
Encouraging new skin cell turnover,(which slows considerably with age), without causing too much irritation for people with skin sensitivities is a key factor in improving the most common skin aging concerns.
Mandelic Acid
Mandelic Acid is one of the staple skincare ingredients in the newly launched Serum. Mandelic is a gentle Alpha Hydroxy Acid (AHA) derived from Almonds that helps to encourage those new skin cells to turn over more quickly. Mandelic is highly recommended for people with sensitive skin or sensitive/acneic skin because it's large molecular structure makes it much more tolerable than other AHA's.
Alpha Arbutin
A brightening component in this super serum is Alpha Arbutin, an important factor in improving the appearance of dark spots and uneven skin tone that happens as we age. Alpha Arbutin is an antioxidant powerhouse derived from the Bearberry plant and is known to be a super gentle alternative to other skin lighteners such as Hydroquinone. It's a slow release ingredient that helps to fade dark spots without the irritation.
Niacinamide
The addition of Niacinamide and Sodium Hyaluronate helps to brighten and also increase moisture retention which gives this serum a rich, hydrating texture, great for dry skin.
Licorice Root Extract
The Licorice Root Extract in the formula contains glycyrrhizin which is known to diminish the appearance of redness while also targeting excess melanin production. The well known soothing properties in licorice root combined with it's ability to target oil, make this ingredient particularly helpful for sensitive/acne-prone skin!
Use twice daily for a more even toned and radiant complexion.
Learn more about the new Bio Mandelic Serum from Institut' DERMed at
https://www.idermed.com/shop/Bio-Mandelic-Serum-p444586533
Institut' DERMed is a premier medspa in Atlanta, Georgia, and a leading clinical-grade skincare brand distributed globally. Founded by master esthetician Lyn Ross, Institut' DERMed products are designed for skin-conscious people who want to look and feel good. Ross is also the founder of Institut' DERMed College of Advanced Aesthetics and provides training to skincare professionals on her advanced treatments and products for problematic and age-related skin conditions.