Welcome to Institut' DERMed Spa
Wish you could take years off your appearance? While there may not be a mythological Fountain of Youth, at Institut' DERMed there are non-surgical skin rejuvenation treatment options that are safe and effective for revealing fresh new skin with improved texture and color.
The Institut' DERMed Spa Facial Consultation
All Institut' DERMed Spa facials begin with a complimentary skin analysis by one of our Licensed and IDCAA Certified Clinical Skincare Specialists to discuss your skin and any concerns you might have. We believe in educating every client about their skin type and skin condition and each of our facial treatments is personally customized to best address your individual needs. We will explain each step of your treatment and show you how to maintain and extend your treatment results at home.  You will see visible results from our superior product ingredients and skincare protocols for aging, acne, sensitive and hyperpigmentation skin conditions.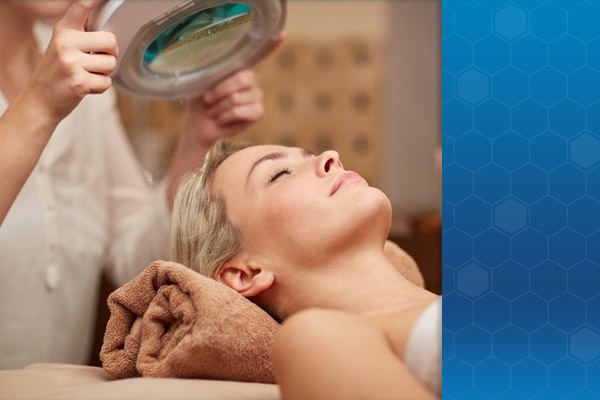 Institut' DERMed Level 101 Infusion Facial Treatments
Our clinically proven Level 101 facial treatment is the perfect facial for first time clients new to the Institut' DERMed concept. This deep pore cleansing facial can be customized for all skin types. Whether your concerns are to reduce oil, the appearance of acne, fine lines, wrinkles, or uneven skin pigmentation this Institut' DERMed primary facial will help tone, clarify and smooth your complexion.
Institut' DERMed Level 201 Advanced Peels
Skin peels are the foundation of skin rejuvenation. The Institut' DERMed Level 201 peel treatments range from light enzyme exfoliation to medium depth acid exfoliation and are designed to safely release dead skin cells that dull the skin's appearance as well as boosting your skin's resilience to environmental stressors.
Institut' DERMed Level 201 Advanced Facial Treatments
Our customized Level 201 skin rejuvenating facial treatment steps up the skin conditioning with light peels solutions of enzymes and natural acids to exfoliate dead skin cells and unclog pores, reduce the appearance of skin imperfections and help to promote stronger, healthier skin collagen and elastin structures.
Level 201 Advanced Facial
Institut' DERMed Intensive Level 301 Peels
Our Level 301 peels are medium to deep peel solutions that are designed for advanced skin rejuvenation. Chemical peels offer greater skin benefits revealing a flawless complexion. Our unique formula's are infused with ingredients that diminish lines, build collagen, and improve skin tone.
Intensive Level 301 Peels
Institut' DERMed Level 301 Transforming Facial Treatments
The ideal facial for prematurely aging skin and skin that has been compromised from skin conditions such as acne and hyper-pigmentation. The Institut' DERMed Level 301 is truly a skin transforming facial treatment that includes medium depth peel solutions designed to stimulate elasticity, firm, tone and brighten the skin while replenishing healthy collagen production.
Level 301 Transforming Facial Treatments
NEW Bio-Derm Oxygen Facial Treatment
Introducing the latest exciting Facial Treatment from Institut' DERMed Clinical Skincare – the Bio-Derm Oxygen Facial featuring Oxygeskin® .
Oxygeskin® is proven to revive and strengthen oxygenation of the skin under conditions of aging and digital pollution, restoring a healthy glow.
NEW Bio-Derm Oxygen Facial Treatment
Dermaplaning
Dermaplaning is a simple and safe mechanical method of exfoliation which helps to remove dead skin cells and vellus hair to give your face a brighter complexion. Add-on to any facial $75
Microdermabrasion
Microdermabrasion is an advanced exfoliation method that has been used in Europe for over thirty years to reduce fine lines, wrinkles, age spots and acne scars. It has proven to be a very popular non-surgical cosmetic procedure for creating healthier younger skin by stimulating collagen production. Add-on to any facial $75
LED Light Rejuvenation
Red Light stimulates collagen production, reduces skin redness and helps to penetrate products formulated for deep hydration. Blue Light suppresses bacteria and reduces acne breakouts.
EMS Facial Rejuvenation Treatment
Our EMS (Electrical muscle stimulation) treatment combines LED (light emitting diode) therapy, Microcurrent and RF to completely rejuvenate the look and feel of aging skin.  The unique stimulating effects can generate collagen, tighten skin and have remarkable effects of improving skin color. The additional boost in  product penetration leaves skin looking radiant,  smooth and healthy.
EMS Facial Rejuvenation Treatment/price
Thermatouch
ThermaTouch is a quick treatment that uses a tiny, sterile probe to remove skin tags and eliminate broken capillaries, cherry angiomas, and other small blemishes on the skin.
INTRAcel Fractional RF Microneedling, FRM™
FRM monopolar mode for the deeper layers, FRM Bipolar mode for the papillary dermis, SRR Superficial Mode for superficail non-ablative treatments and T-Mode -Topical Non-Rf Mode – for conjunction with topicals; No other system can offer the range of power, modalities, features and benefits of the INTRAcel.
DermaFrac™
Micro-Needling is a skin rejuvenation method that creates microchannels in the skin in order to correct various skin conditions such as acne scarring, aging skin, fine lines, wrinkles and hyperpigmentation.
Dermal Pen
The Dermal Pen is an automated Micro Needling device to improve your skin by facilitating natural skin repair and collagen and elastin production.
Micro Needle Roller Treatments
The micro needle roller (also called derma roller) is a small hand-held rolling device which has micro surgical steel needles that reach the inner surface of the skin to promote skin repair from the inside out.
Hydra Facial
The Hydra Facial is a moisturizing skin resurfacing system that exfoliates while infusing specific serums for deep cleansing and correction of age related skin conditions.
| Add on Lymphatic Drainage | $75 |
| --- | --- |
| Add on Crystal Free Microdermabrasion | $75 |
RadioFrequency (RF)
Radiofrequency energy or light energy heats the deeper skin layers to boost collagen production and facilitate skin tightening for your face, neck and décolleté.
Questions?
Email our Client Relations Manager Alli Kim: akim@idermed.com or call us at 770-454-7788