Clinical Skincare Facial Treatments, Institut' DERMed MedSpa, Atlanta, GA.
Wish you could take years off your appearance? While there may not be a mythological Fountain of Youth, at Institut' DERMed there are non-surgical skin rejuvenation treatment options that are safe and effective for revealing fresh new skin with improved texture and color.
Mineral Cosmetics
The most beautiful cosmetic you can wear is a healthy skin. Which is why we think makeup should be a true extension of skin care. Our micronized mineral makeup is a new technology; not just a refinement of normal makeup. Mineral makeup is so effective it's recommended by plastic surgeons, dermatologists and the Institut" DERMed skin care professionals.
We believe creating overall harmony to your face with subtle shading and highlighting with quality formulated cosmetics enhances your total image for greater confidence in your appearance. Our cosmetics are mineral and botanically based and of unparalleled quality. All of our cosmetics are talc-free, fragrance-free and dye-free micronized minerals. We stock IDermed Cosmetics and Jane Iredale make-up.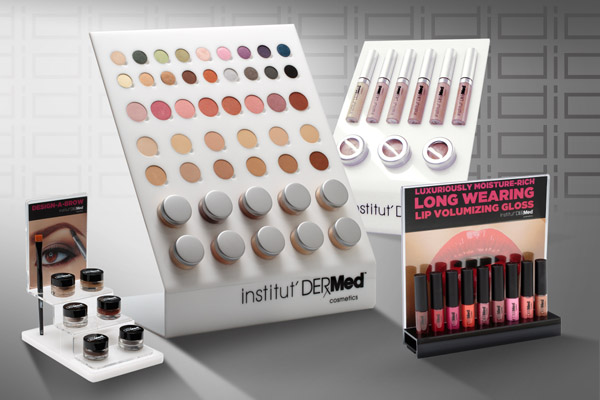 Mineral Makeup Touch Up
At Institut' DERMed Spa we are happy to provide you a complimentary makeup application of mineral makeup color to the eyes, lips and cheeks following a facial treatment. Mineral foundation powders provide safe and excellent camouflage in the post-treatment period when a mild erythema might still be present. Minerals look sheer and natural and allow you to return to normal activities. Mineral make up powder's also provide an extra layer of sun protection to your skin.
Makeup Lesson 101
Learn how to use the tools and techniques of a skilled professional makeup artist to create a daytime and evening look, designed to enhance your unique image.
Special Occasion and Gala Makeup
Schedule a makeover for that special event with one of our make up artists. Properly coordinated makeup will complete your total look, inspiring confidence and projecting your inner beauty.
Bridal Makeup
Look and feel flawless on your wedding day with a professional photographic makeup application. Two sessions, ensuring complete confidence in color selection and makeup application the day of your wedding. We also recommend professional makeup for the Mother-of-the-Bride and Bridal Party to look glowing and elegant for exceptional wedding photos. Call us for a package quote. Also available on site.