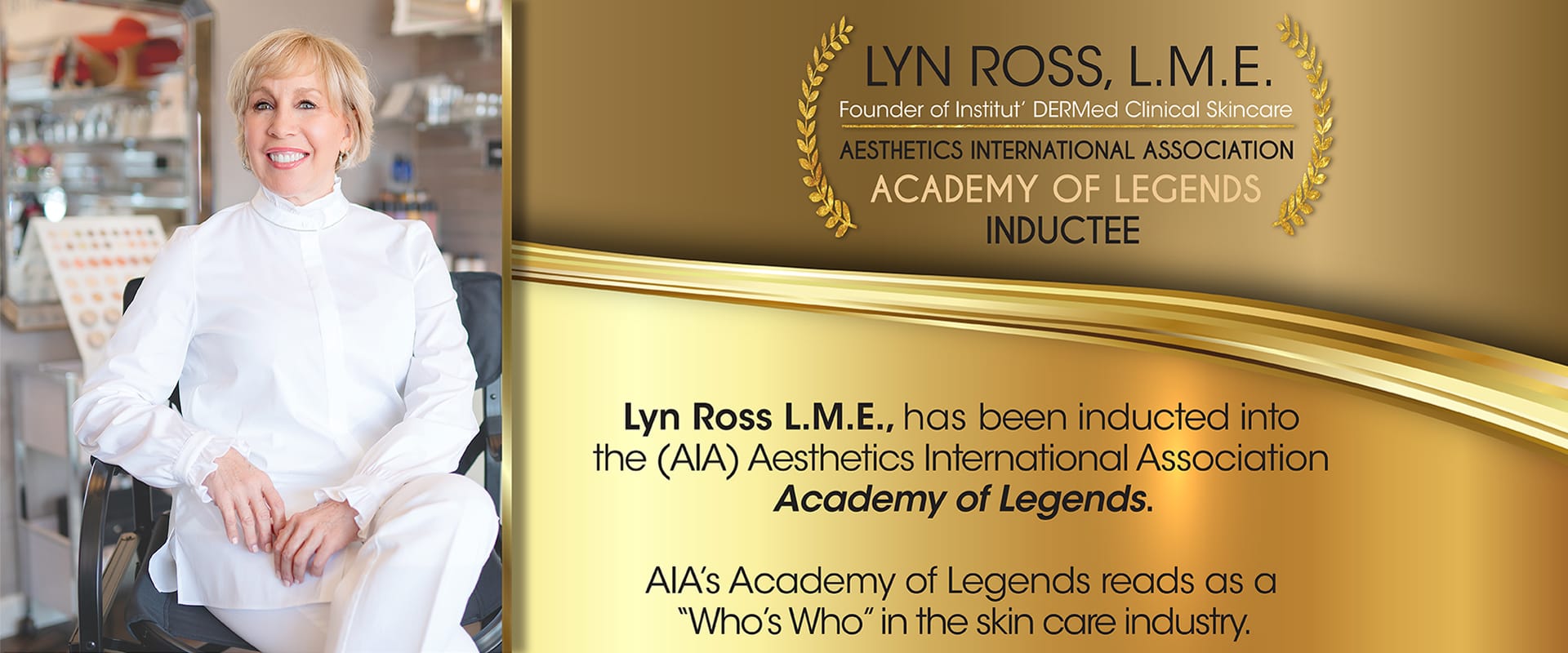 "Institut' DERMed has inspired my entire skincare career ever since 2001, I don't know where I would be now without the products and education courses that continue to excite my passions for growing til this very day. It wasn't until my entrepreneurial mind was ignited while working with Dermed and seeing the results during the classes that I knew I made the right decision. Lyn Ross I owe you big! You're an true inspiration.  THANK YOU!"  
Institut' DERMed Spa est. 1989
Changing Skin Changing Lives™"
Institut' DERMed Clinical Skin Care is one of the most respected names in the professional cosmetic beauty industry. Master Esthetician, Lyn Ross was an originator of the cosmeceutical product and treatment concept now widely dispensed in prestigious salon spas, medspas and physician's offices. Offering the finest cosmeceutical product formulations and educating clients on how to use them was the primary vision behind the Institut' DERMed Spa, a 3,000-square-foot facility located in Atlanta, Ga., with 11 treatment rooms offering the latest mediclinical aesthetic technologies to assure quality solutions that provide the ultimate in relaxation and results for skin health and beauty.
Institut' DERMed Clinical Skincare est. 1994
"Clinical Professional Results"

The Institut' DERMed Clinical Skin Care product line, launched in 1994, uses only the finest most innovative ingredients and is formulated in the United States. We proudly offer our products exclusively through professional skin care centers, medical spas and luxury salon spas across the globe. IDCAA Certified skin care specialists are dedicated to helping you achieve your skin care goals. Our active cosmeceutical skincare line covers the full spectrum of cosmeceutical ingredients offering a complete range of professional treatments with protocols. Each category is color coded to prescribe personalized product and treatment plans based on each person's skin analysis.

Institut' DERMed College of Advanced Aesthetics est. 1995
Education on Skin Medicine"
The renowned Institut' DERMed College of Advanced Aesthetics (IDCAA) offers professional certifications for licensed skin care specialists in advanced clinical and medical skin health care modalities. We train on state-of-the-art equipment and our curriculum covers everything you need to know about clinical aesthetics from recognizing common skin conditions to developing treatment plans and hands on knowledge of sophisticated advanced treatments. Lyn and her staff are licensed and experienced aesthetics professionals. Our graduates are in high demand and find some of the most exceptional job opportunities available.
Questions?
Email our Client Relations Manager Alli Kim: akim@idermed.com or call us at 770-454-7788