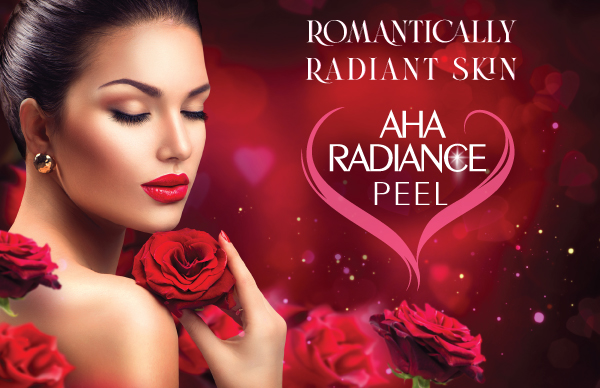 Top Tips For Valentine's Day
Someone with an "even skin tone" has a complexion that looks smooth, bright, and free of dark spots or redness. Even-looking skin tone has that coveted youthful glow many seek. And can you blame them? Everyone wants to look and feel good in their skin! Well there's a lot you can do to get that coveted glow!
Book an AHA Peel with a Professional Esthetician

Peels are a great way to exfoliate the skin to improve texture and give you a radiant glow. A glycolic acid peel, such as the Institut' DERMed AHA Radiance Peel helps break down the "glue" that binds dead skin cells together and also helps boost natural collagen production. Glycolic acid is an effective alpha hydroxy acid (AHA) exfoliator. This high concentration, high pH level peel will ensure skin rejuvenation without downtime so you can happily resume with your normal activities (or Valentine's dinner date) afterwards. Effective ingredients, such as glycolic acid, are game changers in skincare.
Want a little extra radiance? Have a Dermaplaning Exfoliation Done by a Pro

If you want instant gratification, go to your spa for a dermaplaning treatment by an experienced esthetician. A safe and non-invasive approach, dermaplaning manually exfoliates facial hair and dead skin cells. Dermaplaning tools for estheticians include an exfoliating blade and clinical skincare products to remove unwanted peach fuzz and the outer layer of dead skin cells. Your skin looks instantly smoother, brighter, and more rejuvenated after a dermaplaning treatment.
Use Instant Radiance Serum at Home

Maintain romantically radiant skin at home with the Institut' Dermed Instant Radiance EGF Serum
This PhytoCellTec Symphtum, EGF and Phytic Acid hydrating serum creates a smooth, well-hydrated skin appearance. Antioxidants neutralize free radicals in the environment, including UV rays and pollution and help to protect your skin from the visible signs of photo-aging and brighten the look of dull skin for a more luminous complexion.
Choose Institut' DERMed for all of your high-quality, clinical skincare needs. Learn more at www.idermed.com