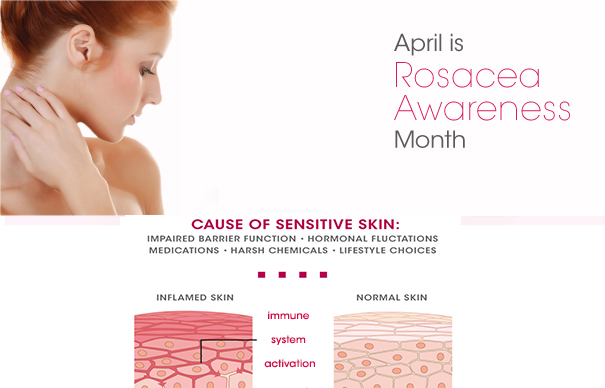 Did you know that April is Rosacea Awareness Month? It was established by the National Rosacea Society to bring attention to this skin condition that affects millions of people.
Rosacea is characterized by redness in the skin. Many people with rosacea look like they're blushing all the time. Rosacea can manifest in a variety of ways from flushing, redness (primarily in the central facial region), to telangiectasias (broken capillaries) and acneic outbreaks. A burning and stinging sensation is also common.
The ultimate goal in the treatment of rosacea is to control the disorder and to minimize discomfort. Mild to moderate rosacea can be treated with a topical products, whereas more severe rosacea can be helped with oral antibiotics. Finding skincare products that work with red, sensitive skin can be challenging. Many clients with rosacea desire a more even-looking skin tone. Whether you're an esthetician who works with clients with rosacea or you have rosacea yourself, you understand the challenge of looking for ingredients that are beneficial for sensitive skin.
Products Made for Uniquely Sensitive Skin
Institut' DERMed® is well aware of the struggle and may have your answer. Known for a clinical approach to skincare, Institut' DERMed takes a more personalized approach to your needs. Here's how:
Institut' DERMed recently introduced their new Bio Mandelic Serum as part of their range of products targeting sensitive skin. The serum is formulated with mandelic acid, licorice root extract, alpha arbutin, and more to help achieve a brighter, more even texture—without irritation.
Like many products developed by Institut' DERMed, from their Soothing Cleanser to their ginger root Soothing Moisturizer they emphasize ingredients that work with your skin, including sensitive skin conditions caused by environmental triggers.
Helping Estheticians Better Understand Skincare

Just as Institut' DERMed has developed a number of skincare products to meet unique needs, they're also committed to helping estheticians offer more for their own clients. Professional treatments, like the Institut' DERMed Mandelic Acid Peel, for instance, works similarly to a glycolic acid but is much better suited for those with sensitive skin.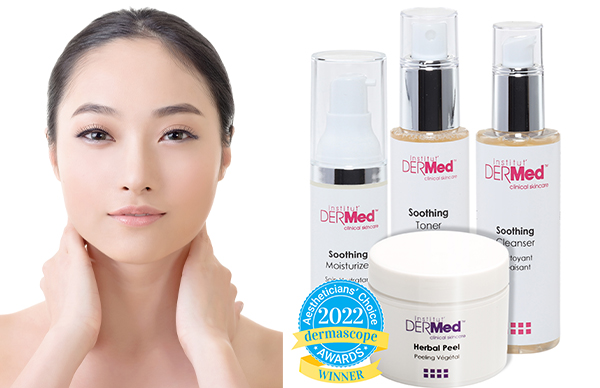 Enzyme Peels, such as the Aestheticians Choice Award winning Herbal Peel aid in the re-texturizing and toning of your skin by digesting surface dead skin cells, unclogging pores and diminishing the appearance of redness. Formulated with Pancreatin enzymes combined with Collodial Oat Extract and Alfalfa this treatment helps to remove cellular debris build up, calm redness and leave the skin feeling soft, clean and refreshed.
When it comes to exfoliating, people with rosacea often avoid it due to uncertainty or concern over causing more sensitivity. Institut' DERMed can be a resource for anyone looking to improve their approach to professional treatments for sensitive skin clients.  On top of that, Institut' DERMed's Soothing line of products was specifically formulated with the Sensitive skin client in mind. To give them options to cleanse, tone, and condition their skin at home. Packed with ingredients such as licorice, willow herb, lactic acid, and enzymes the Soothing line of retail products helps to diminish the appearance of sensitive skin by creating a calm, comfortable complexion.
Learn more about Institut' DERMed's products for sensitive skin at www.idermed.com