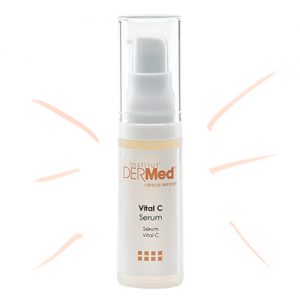 Summer fun and sun can take a toll on your skin but the right products and treatments can work wonders to counter balance the effects of too many UVA/UVB light rays.
Sun exposure can result in hyperpigmentation, patchy skin color or a blotchy complexion. Now is the perfect time of year to help pigmentation problems caused bye by sun damage with a regimen of professional peels.
Natural peeling agents (AHA's and BHA's, such as those contained in the Institut' DERMed Micro Lifting Peel) can help to slough off damaged skin cells and encourage an environment for new skin cells. Ingredients such as Ascorbic Acid –  a vitamin C designed to prevent skin discoloration and assist with boosting collagen production; Malic Acid -a alpha hydroxy acid that is naturally found in fruits such as apples and works as an exfoliant on the skin; Papain Enzymes – fruit enzymes from papaya, that are gentle yet effective exfoliants; and Salicylic acid that helps to shed the outer layer of dead skin cells as well as dissolve the oil that clogs pores. All of these ingredients also brighten and even the skin tone and texture.
Fall is the season for professional skin peels and you can continue your path to healthy skin at home with skin-brightening serums—Vital C Serum: a high potency L-ascorbic acid serum or Chromabright Serum: an alternative to hydroquinone fromulated with Chromanyl Palmitate to help fade dark discoloration.