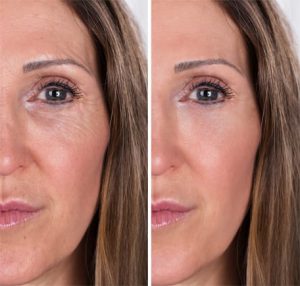 As the anti-aging market continues to flourish staying knowledgeable about active ingredients is more important than ever. But despite all the newest discoveries in topical skincare one of the main power players in clinical studies remains Vitamin A derivatives Retinoids and Retinols).
First studied in 1943 as a treatment for acne, Retinoic Acid suddenly found itself in the spotlight for other benefits – namely its effectiveness in diminishing the appearance of fine lines and wrinkles. Topical Vitamin A has also been shown to help build collagen fibers within the skin in addition to a superficial exfoliation, which is why it is such a groundbreaking anti-aging ingredient in skin care.
A Retinoid varies in its chemical structure from a retinol. Retinoids can only be prescribed by a doctor and can be very tough on your skin. Retinol however, can be included in over-the-counter fromulations and is mainly found in serums and moisturizers. Anyone prone to dryness or sensitivity may not tolerate a retinoid very well but achieve great results in a much more gentle way with a retinol.There are many benefits of retinol and anyone who is serious about anti-aging, whether it be preventative or restorative, should have retinol in their anti-aging routine. Working together with an esthetician to achieve your skin goals with a professional grade Retinol peel treatment as well as maintaining your results at home with a nightly topical application of retinol will bring you the best results.
Although this ingredient has long been known for its benefits what continues to improve in cosmetic formulations are the delivery systems used to transport the active cosmeceutical in the skin to where you need it to be. The Institut' Dermed Vital A serum is formuated with micro encapsulated retinol- this micro-encapsulation is a nano-delivery system shell capsule that stabilizes the retinol and makes it more absorbable into the skin.  Diminishing the appearance of fine lines and wrinkles and promoting collagen production is not all this all star ingredient does either: additional benefits include lifting dark spots and softening rough patches of skin. We recommend using the Vital A serum every other day at first and then gradually working up to nightly applications. Over time, you will see some great results not only for diiminshing the signs of aging but also for discoloration and uneven skin tone, leaving your skin looking brighter, younger, and more alive.
Keep in mind that retinols will increase the skin's sensitivity to sunlight so always wear a sunscreen daily.
Interested in a Retinol Peel and take home Vital A Serum? Check out this Spa Deal available during the month of March.