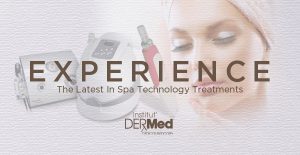 Esthetic equipment treatments are causing waves in the skin care industry. Why?
Because a single session gives instant, yes instant, results!
The latest advances in the Clinical skincare market require virtually no downtime and a single session gives instant, yes instant, results! Treatments can be performed in under an hour and as an added bonus, they're just about pain-free.
Some of the hottest non-invasive approaches to skin care are currently available at the Spa, here are our Top 5:
A relatively new innovation in aesthetic treatments the Dermal Pen
improves skin by facilitating natural skin repair and collagen and elastin production, making the skin stronger and thicker. The depth of the needles are carefully selected so that the channels created form pathways to the dermal-epidermal junction. Visible diminishing of fine lines, wrinkles, hyperpigmentation and acne scars after just one treatment and great results for all skin types make this treatment a hit. Watch the video!
2. Radio Frequency – Face or Body Treatment
A cool gel is applied to the area to be treated and then the technician applies the heated conductor through a handpiece. You will experience a warming sensation as the collagen in your skin heats. You'll see the lifting effect almost immediately post treatment but because the results depend on collagen remodeling your skin will feel tighter, with more tightening improvements and long term effects taking approximately 3 to 6 treatments. Areas that can be treated include the face, neck, stomach, quads, back of thighs, gluts and upper arms.
Needling and a simultaneous delivery of infused ingredients make this treatment a big hit with customers. Equipment that is specifically designed to drive topical solutions deep into the skin tissue, your treatment is individualized by the selection of a Dermafrac Serum that targets your specific skin condition such as: acne, scars, stretch marks, skin dehydration, superficial fine lines and wrinkles, pigmentation, sun spots and uneven skin tone.
Great for all skin types, the HydraFacial Treatment is not only highly effective at improving overall skin health, but also excellent for treating fines and wrinkles, advanced signs of aging, skin tone, skin texture, enlarged pores, oily congested skin and photo damage.
This multi-purpose treatment cleanses, exfoliates and extracts to remove impurities and dead skin cells all the while replenishing vital nutrients through its unique serum delivery system. You can expect plumping and firming of the skin for long-term results.
Body Contouring and Cellulite reduction treatment! This mechanical deep tissue massage uses a patented FDA approved suction roller compression therapy to increase circulation, reduce the appearance of cellulite, tighten the skin and smooth contours of the body. A full body treatment includes stomach, quads, back of thighs, gluts and upper arms. Clients report beaufiful shape contouring results after approximately 8 sessions.
With the current phase of technology delivering solid visual results after one or two treatments it's no wonder these systems are the trend in todays advanced skincare.