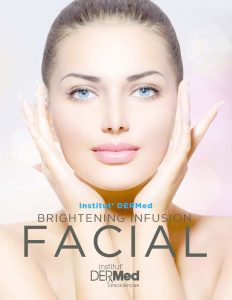 The Summer Season has arrived.
"The wild-rose briar is sweet in the spring, Its summer blossoms scent the air;
Yet wait till winter comes again, And who will call the wild-briar fair?"  Emily Bronte
Institut' DERMed welcomes the Summer with our Summer Essentials to help guide you through summer fun without the sun damage. None of us want to end up like a "wild-briar" come September and so we've come up with a few recommends designed with just that goal in mind.
Outdoor Summer fun with family and friends can last a lifetime, sadly so can the harmful rays of the sun. Brown spots, known as hyper-pigmentation can be caused by UVA & UVB light. After months of unavoidable sun exposure these lesions begin to rear their ugly heads on our beautiful faces, hands and body. Brown spots caused by the sun may be prevented with sunscreen and are best resolved with corrective treatment!
Targeting pigmented lesions that often result from over exposure to sunlight are the type of skin conditions the active ingredients contained in the Institut' DERMed Brightening Product category are designed to correct.
Vital C Serum
Packed with the melanin suppressors necessary for correcting as well as preventing sun damage the Institut' DERMed Vital C Serum is a good start to  creating a lighter and brighter complexion. Perfect for all skin types challenged with melasma, sun damage as well as those post acne, dark spots the accelerated cell renewing benefits make this an excellent choice.
Brightening Mask
Institut' DERMed masks are designed to correct, hydrate and maintain skin health and beauty in-between professional treatment sessions. The Brightening mask is formulated with highly concentrated dermatological and botanical ingredients, Licorice Root Extract and SymWhite®,  to fade and prevent skin discoloration. A once a week application throughout the Summer will help to lift the "bad" pigment from the skin leaving it brighter and clearer.
Brightening SPF
We all know the importance of sunscreen but oh, it is so much easier to remember when it doubles as a moisturizer. The Institut' DERMed Brightening Moisturizer SPF 15 is more hydrating and creamy while the SPF 28 is more matifying for oily/acneic skintypes and for those sticky more humid  days. What could be better than a nice boost of moisture while protecting your skin from the damaging effects of the sun!
Prevention is easier than concealing or trying to fix sun damage and wrinkles, so enjoy the summer but don't neglect your skin.