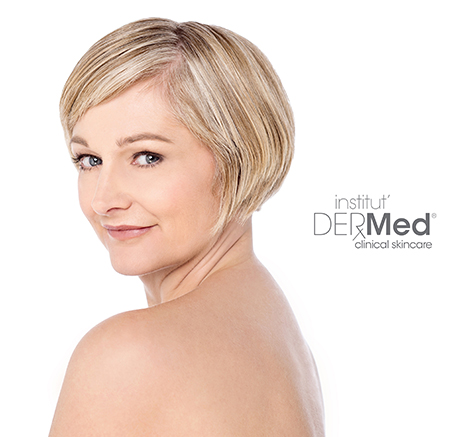 Achieve Radiant-Looking Skin for Spring
Welcome the Arrival of Spring with a Face Peel, Glycolic Body Wash, and Other Tips
The days are finally getting longer, and the sun is starting to shine brighter. Now is the time to shed your winter layers and get ready to glow this spring. Exfoliating dead skin cells is one of the best ways to say "see-ya" to dull winter skin. Whether you're getting a facial treatment at the spa or using a glycolic body wash at home, spring-ready skin isn't far away.
Get a Professional Peel
After a long winter, your skin may look dull due to the build-up of dead skin cells. It's hard for your natural radiance to come through without supporting cell turnover. Peels are popular for that very reason. They work well to help slough off dead skin cells and unclog pores. Peels also help even the appearance of skin tone and texture while supporting your natural collagen production.
An advanced peel formula helps brighten the look of skin that appears damaged by sun, age, hyperpigmentation, or acne. The best peels leave your complexion looking and feeling soft, smooth, and radiant. The goal is to create a better surface for your topical products to absorb more effectively without irritating your skin.
This spring, treat yourself to a professional peel that's suitable for all skin types. Better yet, find an esthetician skilled and experienced in facial peels. Your esthetician will work with you to decide the most appropriate peel to address your concerns. Your peel will likely have alpha hydroxy acid (AHAs). AHAs naturally occur in citrus fruits, apples, grapes, and sugarcane. Peptides and antioxidants to nourish your skin will likely also be included in an effective peel.
Do Facials at Home
Another option is to give yourself weekly facial treatments at home using clinical-grade products. Using both a topical and a physical exfoliant in your skincare regimen can help keep those dead, dry skin cells away. For example, you may start with a gentle polishing scrub, followed by a renewing peel, and finish with a hydrating mask. Focus on using clinical-grade products to maximize your results and minimize irritation.
Skin ages whether we like it or not. Thankfully, you can assist the natural aging process by exfoliating and strengthening your skin's ability to retain moisture. In addition to professional or at-home facials, make sure you have a set morning and evening skincare routine. Esthetician-recommended products can help encourage your skin to increase dead cell turnover, boost elasticity, and support a smoother-looking complexion.
Use Radiance-Boosting Products, Including Glycolic Body Wash
You can extend your professional results at home by using effective skincare products. Consider a line of brightening products to maintain radiant-looking skin. Products may include a brightening cleanser with corrective ingredients that assist in evening the look of skin tone. The right cleanser will not dry out or strip your skin.
You may also benefit from an antioxidant-rich toner that can help protect your skin from recurring dark spots. Follow with a vitamin C or glycolic acid serum and brightening moisturizer with UV protection. If your moisturizer doesn't have SPF, be sure to apply it as the last step in your skincare routine. Sun damage is one of the leading causes of skin damage and visible aging.
As for your body, glycolic acid is a highly effective AHA for refining the skin's surface and supporting a smooth complexion. Glycolic acid is great for your face, but it's a wonderful exfoliant for your body too. Get ready to show some summer skin with a glycolic body wash and body lotion. Your body wash may have glycolic acid derived from sugarcane to exfoliate and shea butter, rich in fatty acids and vitamin E, to moisturize. Follow with a hydrating and nourishing body lotion to keep the skin's natural moisture barrier intact.
Tried and True Refining Ingredients
As we age, one of the goals is to maintain a fresh-looking appearance. What helps address the signs of aging skin? You want to gently remove dead skin cells and avoid drying out or causing irritation to your skin. You also want to encourage your skin's natural rejuvenation process, boost collagen production, and fade the look of current skin discolorations. The following ingredients are a few of the gold standards in some of the best anti-aging skincare products.
Glycolic Acid
As mentioned, AHAs are some of the leading skin exfoliants used to address surface-level concerns. Examples include citric acid from citrus fruits, malic acid from apples, tartaric acid from grapes, lactic acid from milk, and glycolic acid from sugar cane. AHAs marked a new age in skincare by bringing nature and science into beauty products.
All AHAs have a similar molecular structure, but glycolic acid is the smallest. This is ideal for penetrating hair follicles and "ungluing" dead skin cells for exfoliation. Dead skin cells and buildup can lead to breakouts and blackheads. Glycolic acid's penetrability also helps encourage collagen production. As a result, the appearance of fine lines, wrinkles, and dark spots may diminish over time.
Retinol
Around the same time AHAs entered the skincare world, so did retinoic acid. It's a derivative of vitamin A. Retinoic acid was found to be effective in treating certain types of acne, and dermatologists investigated its possible use in anti-aging products. However, retinoic acid was proven to cause dryness and irritation. Eventually, retinol was developed, which is a gentler derivative of vitamin A than retinoic acid.
Retinol has proven to be helpful for a variety of skin conditions. It can address acne, fine lines, wrinkles, and uneven skin tone. People with sensitive skin may need a few weeks to adjust to retinol, but it's a time-honored ingredient in skincare products.
For the best results, talk to a dermatologist or professional esthetician. Consider using clinical-grade products as well. Many products use buzzwords like retinol but don't contain "actives." If there are only subtle traces of retinol in your products, you can't expect them to have much of an effect on your skin. Speaking with a professional esthetician will ensure you get powerful products with your skin type and concerns in mind.
About Institut' DERMed®
As a clinical-grade skincare brand, Institut' DERMed® is dedicated to helping people achieve their skincare goals. Using only the most effective and innovative ingredients, Institut' DERMed proudly offers retail skincare products and professional-only products distributed exclusively through the brand's spa partners and in professional skincare centers across the globe. Company founder Lyn Ross is a Master Aesthetician who opened the first medspa in the Southeast in 1989. Today, Institut' DERMed is a premier medspa in Atlanta, Georgia, and a leading skincare brand. Ross is also the founder of Institut' DERMed College of Advanced Aesthetics, an esthetician training school for licensed skincare professionals. Learn about advanced skincare courses, purchase a dermaplaning kit, and much more online.