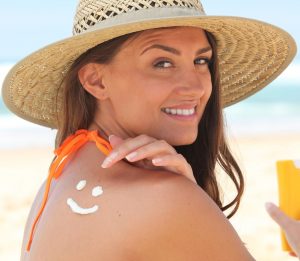 Photo-aging is often the first sign that your skin has been damaged from sun exposure. Brown spots, known as hyper-pigmentation can be caused by UVA & UVB light. After years of sun exposure these dark spots begin to rear their ugly heads on our faces, hands and body.
Reducing these signs of sun damage can also reduce your risk of developing skin cancer. Many of the treatments for photoaging not only restore a more youthful appearance, but also reduce the risk for developing precancers.
Targeting dark spots that often result from over exposure to sunlight is best achieved with regular treatments containing active ingredients such as those contained in the Institut' DERMed Brightening Product category.
Regular facial treatments can be a tool in the fight against skin cancer. Research has shown that peels, along with other facial-resurfacing techniques, may help reduce the presence of skin lesions and precancerous conditions that can develop into skin cancers..
Treatment Spotlight – Fundamental Level 101 Brightening Facial
After a superficial cleanse to remove make up the Brightening treatment begins with a corrective cleanse using the Institut' DERMed Brightening Skin Cleanser – An aromatic foaming gel treatment cleanser formulated with Kojic acid designed to initiate the brightening process.  This deep cleanse of the skin helps to prepare for the application of the corrective products that will exfoliate and even the skin tone.      
After the cleanse we apply the Institut' DERMed Brightening Skin Toner – A potent anti-oxidant treatment toner formulated with L-ascorbic acid, L-glutathione enzyme and Spin Trap molecules to help protect the skin against environmental stressors and free radical reactions by rapidly releasing skin cells as well as dissolving oil.  
We then apply the Institut' DERMed Enhancing Micro Crystal Polish, a highly effective exfoliater formulated with Diamond Corundum Crystals and Jojoba Beads to polish away dead skin cells, improve overall texture and refine pores in preparation for the Brightening Peel.
The Institut' DERMed Brightening Peel is formulated with 10% -Lactic Acid to increase cellular exfoliation, brighten and re-texturize the skin. The Pearl Powder in this formula is rich in micro-nutrient anti-oxidants helping to protect against environmental damage and improve the rate of cell renewal.
Our prize winning (Dermascope Aestheticians choice award) Institut' DERMed Brightening Mask is an excellent post peel treatment as it is very hydrating as well as brightening and helps to fade stubborn uneven skin tone. Formulated with Licorice Root Extract and SymWhite®77 to rapidly improve the appearance of dark spots and uneven, patchy skin.
An application of Institut' DERMed Vital C Serum – formulated with L-ascorbic acid, DHEA-ascorbic and calcium ascorbic then helps to increase skin firmness and create a more youthful appearance.          
Always complete this and any other facial treatment with an application of Brightening Moisturizer,  a light weight SPF15 – all in one Micronized Titanium Dioxide, Oxybenzone and Sodium PCA moisturizer for daily use to hydrate and protect.
When we are dealing with skin that has been over exposed to the sun very often we are dealing with more than one issue, and this regimen is ideal for promoting overall healthy skin.