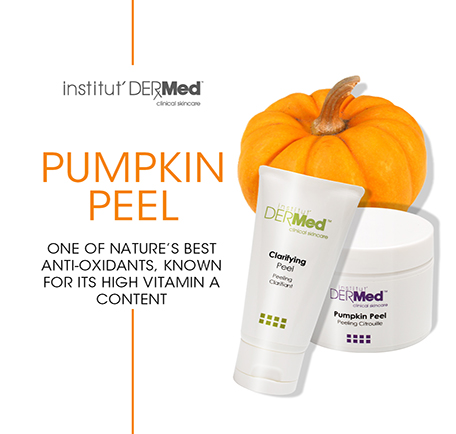 Enzymes In Skincare

Fruit and vegetable enzymes are proteins with the ability to target and break down dead skin cells. When used in skin care products, enzymes are applied to the skin to digest the keratin protein. Keratin is the protective protein that makes up skin, hair and nails.  How does this benefit the skin? By helping you shed the dull, dead skin cells on the surface of your skin to reveal the healthy, glowing skin just underneath.
Pumpkin Enzyme Peel

Enzyme peels replace manual scrub type exfoliators with an added bonus: they're also packed with antioxidants! Pumpkin enzymes naturally contain vitamin A, which helps to smooth fine lines and encourages collagen production for a natural pro aging effect.
It's no wonder then that Pumpkin Enzymes are one of the most popular enzymes for refining the skin's surface. Pumpkins are also rich in B vitamins and minerals like niacin and zinc which helps to control oil production. That makes Pumpkin a great choice for people with acne prone skin to safely combat breakouts without too much aggravation.
Professional Skincare Treatments
For professional use, the Institut Dermed Pumpkin Peel facial treatment combines enzymes and fruit acids to accelerate exfoliation without inducing the kind of recovery time associated with more aggressive peels. Pumpkin has a mild retinoic acid benefit, helping the exfoliation process and this peel is also packed with Vitamin C, an antioxidant to strengthen your skin's defenses and slow the signs of skin aging.
A professional Pumpkin Peel treatment takes approximately 30 minutes, which makes it a popular lunchtime facial treatment!
Homecare Enzyme Treatments

Homecare skincare products that achieve this "healthy pumpkin glow" are also available to extend professional results between treatments. Five minutes at home once a week is all you need to transform your skin with the Institut Dermed Clarifying Peel. Formulated with Pumpkin Enzymes and L-Lactic Acid this weekly treatment accelerates the release of dead cell build-up, diminishes  the appearance of uneven skin tone, decongests clogged pores and helps to prevent the appearance of blemishes for a clear, clean complexion.