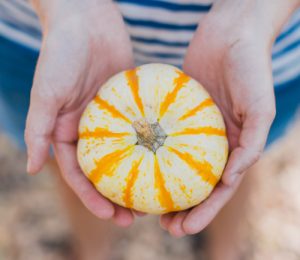 Fruit and vegetable enzymes are proteins with the ability to target and break down dead skin cells. When used in skin care products, the enzymes speed up chemical reactions on the skin's surface, increasing skin cell turnover to reveal healthy, glowing skin. The enzymes take the place of manual exfoliation with an added bonus: they're also full of antioxidants! Pumpkin enzymes naturally contain vitamin A, making them the most effective enzyme for refining the skin's surface. This miracle enzyme helps to treat fine lines and wrinkles as well as to combat oily acne breakouts.
Skin care products that achieve this "healthy glow" without the downtime are available for home-care as well as professional use. Five minutes at home is all you need to transform your skin with the Institut Dermed Clarifying Peel. Formulated with oil controlling Pumpkin Enzymes and L-Lactic Acid this weekly treatment accelerates the release of dead cell build-up, fades the appearance of skin discoloration, decongests clogged pores and helps to prevent the appearance of blemishes for a clear, clean complexion. Contains 5% Pumpkin Enzymes.
For professional use, the Institut Dermed Pumpkin Peel facial treatment combines enzymes and fruit acids to accelerate exfoliation without the oxidative and free radical stress associated with most peels. The mild retinoic acid benefit helps the exfoliation process and this peel is also packed with Vitamin C, an antioxidant to strengthen your skin's defenses and prevent the signs of aging. The Pumpkin Peel treatment takes approximately 30 minutes. There's no downtime with this peel which makes it an excellent lunchtime treatment.Contains 15% Pumpkin Enzymes. For Professional Use Only.