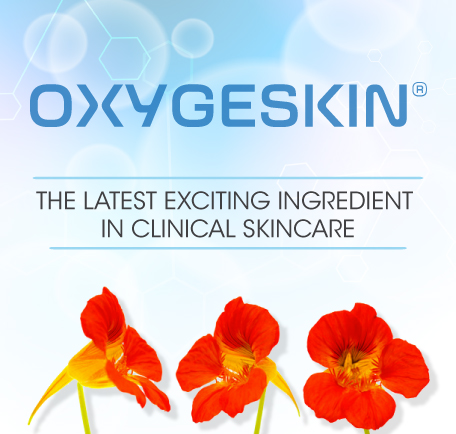 Introducing the latest exciting skincare ingredient from Institut' DERMed Clinical Skincare – Oxygeskin®.   Oxygeskin® is derived from Tropaeolum Majus Extract.  The Tropaeolum Majus flower, more commonly known as the garden nasturtium, originated in the Andes and is widely grown as an annual plant, recognizable by its beautiful orange flowers.
Oxygeskin® targets environmentally induced skin stressors such as those that are induced from concentrated blue light. Most of our blue light exposure comes from the sun, but we are also exposed to significant amounts from digital screens. Over time, this long term exposure can lead to unwanted changes in the skin from color changes to lax skin.
Silab the manufacturer of Oxygeskin® has data proving the efficacy of Oxygeskin® in reviving and strengthening oxygenation of the skin under conditions of aging and digital pollution, remarkably restoring a healthy glow.
Oxygeskin® is the latest active ingredient incorporated into the Institut' DERMed Bio-Derm Oxygen Facial Treatment. This treatment helps to support the skin barrier, smooth the skin's texture and reduce the appearance of fine lines and wrinkles.
Clinical studies show multi-step treatments deliver better benefits to the skin and the Bio-Derm Oxygen Treatment is designed as a 3 step facial application to achieve this maximum effect.
The Institut' DERMed Bio-Derm Oxy Balm is a super hydrating, light weight serum with a high concentration of Oxygeskin® and Niacinamide to increase cellular respiration. While we have touched on the amazing benefits of Oxygeskin®, Niacinamide (also known as Vitamin B3) is another breakthrough skincare ingredient. Studies have shown Niacinamide (in concentrations from 2 to 5%) helps to improve epidermal barrier function, decrease fine lines and wrinkles, reduce the appearance of uneven skin color, and also shows improvements in acne prone skin.
Together these ingredients work with the natural substances in our skin to strengthen epidermal barrier function, even our skin tone and restore a healthy and youthful looking glow.
The hero product in the 3 step Bio Derm Oxygen Facial Treatment features the Bio-Derm Oxy Mask, this is a concentration of hydrogen peroxide, glycolic acid, salicylic acid and retinyl palmitate infused with a high concentration of Oxygeskin®. An amazing cocktail of skin benefactors that help to increase the efficacy of our showcase ingredients, boost skin cell respiration and smooth the skin texture. Retinyl Palmitate is an ingredient composed of palmitic acid and retinol (Vitamin A). Retinyl palmitate is less irritating to the skin than another Vitamin A derivative Retinol. Our skin naturally converts Retinyl Palmitate to retinol, which makes it a gentler yet still highly effective alternative to more aggressive forms of Vitamin A to treat the signs of aging and encourage the growth of new skin cells.
Then there is the Bio-Derm Nutri Oil, an emollient with pumpkin seed oil, T-resveratrol, Borago Seed Oil, Ceramide 3 and Black Cherry Oil to fortify the skin's barrier. The benefits of Resveratrol in helping to protect the skin from negative environmental influences is well known, but less well known Ceramide 3 also packs a mighty defense. Ceramides are found naturally in our skin. They are lipids that help form and maintain the skin's barrier and help to prevent loss of moisture. Ceramides also help defend against environmental stressors like pollution. The aging process and over exposure to the suns rays reduce the effectiveness of our ceramides— which has the effect of weakening the skin barrier. Topical ceramides help to reinforce that barrier as well as increase hydration in the skin.
The Bio-Derm Oxygen Facial Treatment from Institut' DERMed is truly a skin-replenishing treatment with ingredients that are all designed to work together. The exfoliant aspects help to remove dead skin cells and improve the absorption and effectiveness of the Oxygeskin® enriched products. The replenishing lipids deliver intense hydration and boost the skins resilience.
Protecting our skin from environmental stressors and digital pollution in today's world is of primary importance to prevent the signs of premature aging. And, as always, your best daily defense to protect your skin is a broad-spectrum sunscreen.
Institut' DERMed blog is a Feedspot Top 100 Esthetician Blog