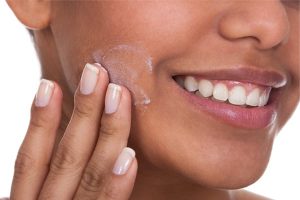 Acne breakouts occur when there is an excess of of dirt and oil clogging the pores. Clogged pores promote the proliferation of the bacteria responsible for pimples and  pustules. Summer heat and humidity can intensify oil production and things can get out of control quickly. We've got the perfect summer resolutions to help keep your acne prone skin clear of breakouts.
Topical serums such as Glycolic Serum formulated with Glycolic Acid – an alpha hydroxy acid (AHA) derived from fermented rhubarb and Sodium PCA – a non-comedogenic natural humectant and effective moisture-binding agent that preserves the natural moisturizing factor (NMF) of the skin or our Totarol Serum formulated with Totarol Extract – derived from the Totara Tree in New Zealand, used as a gentle alternative to benzoyl peroxide and Tea Tree Oil – also known as melaleuca help to control excess oil.  
An at home Spa treatment once a week of a Clarifying Peel formulated with Pumpkin Enzymes and L-Lactic Acid helps to exfoliate and decongest clogged pores. Follow with a Clarifying Mask formulated with Bio-Fense Probiatic® and Lichochalcone® to absorb oil and decongest pores, and your skin will remain clean and clear.
Don't forget it's very important to protect your skin from UV damage so apply sunblock daily, an application formulated with zinc oxide won't clog your pores.
Worth A Look – Dermed featured Products
Clinically proven ingredients for healthy radiant skin.
Clarifying Peel
Pumpkin Enzymes – an anti-oxidant rich AHA exfoliator.
L-Lactic Acid – gentle exfoliating AHA to clarify without dehydration.
Clarifying Peel
BioFense Probiotic® – targets bacteria helping to prevent & strengthen the skin.
Lichochalcone® –a type of natural phenol from the root of Glycyrrhiza glabra (liquorice).