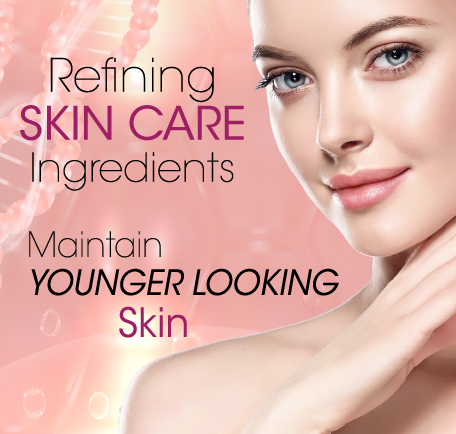 Maintain Younger Looking Skin
The goal for all skin types as we age is to remove dead skin cell build up without causing irritation. Increasing skin cell turnover (which slows considerably with age), boosting collagen production as well as fading current skin discolorations will help to address the most common skin aging symptoms and concerns.
In the early 1970's beauty and science intersected when AHA's (Alpha Hydroxy Acids) were discovered: Citric acid from citrus fruits, Tartaric acid from grapes, Malic acid from apples, Lactic acid from milk and Glycolic acid from sugar cane.
All AHA's are similar in molecular structure but the smallest molecular structure can be found in Glycolic Acid which is what allows it to produce some impressive skin changes.
Because of the small molecular structure Glycolic Acid can travel down the hair follicles and "unglue" dead skin cells and built-up debris that can lead to blackheads and breakouts. This ability to penetrate also helps to encourage collagen production which can diminish the appearance of lines and wrinkles as well as shed those dark spots.
During this time frame, late 60's early 70's, topical tretinoin (a form of vitamin A) was discovered to be effective in treating acne vulgaris. Retinoic acid, the predecessor of retinol, soon followed. The retinoid family comprises vitamin A (retinol) and its natural derivatives such as retinaldehyde, retinoic acid, and retinyl esters, as well as many synthetic derivatives (Antille et al 2004).(1)  However, it wasn't until the 1980's that its potential in the treatment of photo-aging was first demonstrated by Kligman and colleagues (1984).(2)

Retinoic Acid soon became a very popular anti-aging solution. It became apparent quite quickly however, that Retinoic Acid caused skin dryness and quite a bit of skin irritation as well. This eventually led to the development of Retinol, a much gentler form. Retinol converts into retinoic acid in your skin at the cellular level and has proven to be very beneficial in managing acneic conditions as well as achieving excellent results for wrinkles, fine lines and uneven skin tone.(3) Retinols' gentler manner makes it an excellent choice for people with sensitive skin too. Although a person with sensitive skin may experience a mild irritation in the beginning, this is all part of the skin conditioning process and typically subsides after two or three weeks when the skin cells begin to tolerate the ingredient.
Professional Retinol Peel Treatments are very popular and offer an advanced exfoliation option to a topical homecare solution. A Retinol Peel can be applied topically to your face, neck, chest or back and the benefits include improving acne prone skin conditions, fading dark spots, softening rough patches and diminishing the appearance of wrinkles.
Maintaining your skin at home between professional treatments has never been easier with a Retinol Serum such as the Institut' DERMed Vital A serum. This Serum combines both Glycolic Acid and Micro-encapsulated L-Retinol creating a short-term result on continuing to encourage the turnover of dead skin cells as well as improving the skin's texture, tone and overall health. Long term use of the Vital A Serum helps to strengthen the skin's structure for a firmer more visible improvement in the conditions related to skin aging.
To help plump and re-hydrate your skin add a hydrating serum to use as an alternate to your Retinol Serum or for daily a.m. use. The Institut' DERMed Anti-oxidant Peptide Lifting Serum is formulated with Pro-Coll-One Peptides, Apple Stem Cells, Fision™ Instant Lift, Matrixyl Synthe'6, Argireline and Myristoyl Peptides whose effect has been evaluated  for immediate skin firming to minimize the appearance of wrinkles and fine lines.
The short-term result of daily use of the Anti-oxidant Peptide Lifting Serum is a diminishing in the appearance of dry, lax skin. Long term use helps to deliver a firmer skin appearance, a smoothing of squint and frown lines and a boost to collagen improving skin tone and resiliency. Your skin will look brighter, younger, and more alive with these clinically proven refining ingredients for healthy radiant skin.
Remember, one of the best defenses against premature aging is to defend your skin from the sun's radiation. A broad-spectrum SPF of 15 or greater applied every day on any sun exposed skin is particularly important for evening the complexion and diminishing your risk of developing lines and wrinkles.
Sources
1.Historical perspectives of tretinoin, Stüttgen G. M.D., https://www.sciencedirect.com/science/article/abs/pii/S0190962286702284
2. Retinoids in the treatment of skin aging: an overview of clinical efficacy and safety, Mukherjee S., Date A., P. Vandana,Korting H.C., Roeder A.,Weind, https://www.ncbi.nlm.nih.gov/pmc/articles/PMC2699641/
3. Retinoids: active molecules influencing skin structure formation in cosmetic and dermatological treatments, Zasada M., Budzisz E., https://www.ncbi.nlm.nih.gov/pmc/articles/PMC6791161/