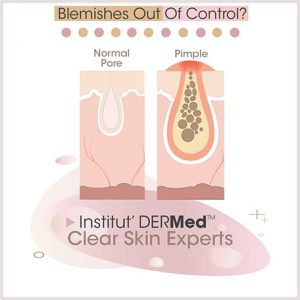 Oily, acne prone skin may seem complex and intimidating, but it doesn't have to be.  Studies show that acne is often due to DNA but the condition can be aggravated by emotional stress and environmental factors. What is understood is that Acne is an  inflammatory disorder of the skin that involves the sebaceous gland.
What causes this disorder in the sebaceous glands?
Sebaceous glands are small oil-producing glands usually attached to hair follicles in the skin. They release sebum into the follicular duct and from there to the surface of the skin. Acne occurs due to a disorder of these sebaceous glands which causes excessive sebum to be produced. When this excessive sebum mixes with the dead skin cells in the hair follicle this creates a micro plug (comedone/blackhead). These micro-plugs can lead to a variety of blemishes because an enlarged hair follicle plugged with oil is a perfect environment for bacteria. This can result in pimples, pustules, cysts and nodules. Although acne's actual cause is unknown, and a number of causes can play a role, we do know that it involves bacterial breakdown of sebum into fatty acids that create irritation in the surrounding tissue. During puberty the production of Androgen (hormones – the most well known being Testosterone) increases – this can cause the sebaceous glands to become enlarged leading to more oil production, bacteria and inflammation. Hormonal changes from menstrual cycles, pregnancy, pre-menopause and menopause can also be culprits for breakouts. Even hormonal fluctuations from birth control can either cause (or sometimes resolve ) acne breakouts.
When you're suffering from breakouts, the last thing you want is dead skin filled with bacteria to build up. The Clarifying Facial Treatment from Institut' DERMed contains cosmeceutical ingredients designed specifically for your skin's needs and contains supporting peptides to help you achieve a clean, clear and comfortable complexion. The Institut' DERMed Clarifying product system is formulated with glycolic, lactic, salicylic, ascorbic and phytic acids specicifally designed to keep oily acne prone skin under control.  Using active ingredients to exfoliate and remove dead skin cell build up is key. By keeping your skin exfoliated, you will also make it easier for your topical products to penetrate into the skin and stop the breakouts at their source!  Providing you with clean, healthy looking skin is our priority. The Institut' DERMed Clarifying product system used in the Clarifying Facial treatment contains glycolic, lactic, salicylic, acids and pumpkin enzymes to exfoliate, there's also Willow Tree Bark and Totarol from the Totara Tree which are a wonderful and gentler alternative to anti-bacterials such as Benzoyl Peroxide and BioFense Probiotic® to normalize skin.
So what are some easy steps to keep in mind to prevent break outs?

First, use appropriate skin care ingredients that will control the oil production in the skin, for example a cleanser containing salicylic acid will be an effective oil controller.
Secondly, keep in mind that people are prone to touching their face a thousand times a day. Not only does this spread germs, but this spreads bacteria to the face. Also, think about your phone! The amount of bacteria that is on your hands is also on your phone screen, when possible use an ear-piece for your calls to keep your phone screen off your face.
Monthly facials, whether in Spa or at home to unclog pores and to treat your skin with manual exfoliation methods, including microdermabrasion (or at home the Institut' DERMed Micro Crystal Polish) will help . Product choices should be regularly assessed depending on how your skin is doing and new ingredients can be added to the product regime, or products can be removed, in order to advance the results.
Stay away from any unnatural makeup. Mineral makeup should be the only type of makeup used on acne prone skin types to prevent pore congestion and possible irritation from unnatural ingredients. Some mineral makeups are even formulated to help calm the skin and reduce redness, a great benefit for those suffering with acne.