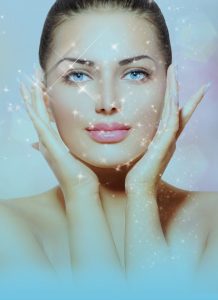 Remember that dewy skin of your youth? Childhood skin looks tight and toned because of active collagen production in the dermis of the skin. This slows steadily as we get older, eventually causing the skin to grow slack and fine lines and wrinkles to appear. Choosing the most effective treatment plan from all the current available options can be confusing. But if a more youthful appearance is your goal then it's worth knowing that true anti-aging treatments must stimulate collagen production in order to be effective. Facial skin resurfacing is the quickest way to achieve a collagen boost.
Best Professional Facial Exfoliation Treatments
Enzyme or acid peels, Microdermabrasion and Dermaplaning, or layering one of these mechanical exfoliation techniques with a topical exfoliating peel will give you the ultimate in professional treatments for rejuvenating your skin.
Layering can turn a superficial peel into a medium depth result and is an excellent option for skin conditioning to even out the color and smoothness of the skin, soften lines and wrinkles and improve pigment issues. Exfoliating first with a Microdermabrasion or a Dermaplaning, particularly for people with dry, thick skin will ensure an even penetration of the peel and a better result.
For clients with large pores and oily skin an acid peel will penetrate more easily so consider a microdermabrasion after the peel to exfoliate the epidermis for a smooth tight finish. If microdermabrasion or dermaplaning is not an option great results can still be achieved by layering topical peels. Apply enzyme peels under lighter acids. For example, a pumpkin peel or an herbal enzyme peel under a glycolic acid peel or lactic acid peel. Just remember every face must be carefully analysed with a thorough skin analysis to determine which skin rejuvenating modality or topical skincare agent will give the greatest improvement with the least side effect based on the client's skin type, skin condition and lifestyle. Avoid layering skincare treatments on clients with hyper sensitive skin, skin disorders, or clients using photo sensitive medication.
Best Consumer at Home Exfoliation Treatments
The biggest contrast between professional skincare and consumer skincare products is the strength of the cosmetic ingredients. Professional products will produce the biggest change in skin, but this can then be maintained at home with products containing active cosmeceutical ingredients that can promote the change. A lower active cosmeceutical ingredient percentage at home will extend professional results without the risk of over exfoliating. Skin care products containing glycolic and lactic (known as AHA's -Alpha Hydroxy Acids) exfoliate the skin. They work to break down oils (lipids) in the skin allowing for accelerated skin cell shedding. The use of a manua, topically applied skin exfoliator such as the Institut' DERMed Enhancing Micro Crystal Polish that contains corundum crystals and jojoba beads will polish away dead, damaged skin cells and when used once a week will provide a mild exfoliation without risk of over exfoliating.
Exfoliating ingredients can be strong and when first introducing them into a skin care regime it's best to use on alternating days and use only at night for the first few weeks to build tolerance and to avoid adverse reactions in the skin.
Best Body Treatments: Niacin, or vitamin B3, is a powerful vasodilator so potent that it creates an immediate rosy flush and a feeling of warmth upon application. Circulation is drastically increased in the areas applied, and estrogen-induced inflammation is reduced. Niacin is an outstanding ingredient as it not only treats cellulite, but improves skin health through effectively stimulating lymphatic flow, flushing away toxins and excess water while flooding nutrient-rich blood to the tissue.
Institut' DERMed CelluliteRx® patented formula contains additional powerful clinical actives including Alpha Palmitoyl Peptide-21™ and Alpha Copper Tripeptide-4.™ These ultra-pure peptides firm and tighten the skin by increasing collagen synthesis. Collagen is the protein that gives skin its structure, firmness and youthful appearance. Collagen naturally depletes as we age, so this product system is designed to boost collagen with botanical peptides infused with extracts like millet seed and pomegranate, which have powerful antioxidant and anti-inflammatory properties.