Our latest addition to the Institut' DERMed Spa Facial Treatment Service Menu combines the 5 most effective skin rejuvenation technologies in one device: RF (Radio Frequency) + EMS (Electrical Massage Stimulation) + Electrical product penetration (EP) + Mesoporation + LED Light Therapy.
Traditionally estheticians have used several different machines to create the kind of performance that their clients skin needs. Now with new advancements in technology using EMS (Electrical Muscle Stimulation) we can encourage the production of more Adenosine triphosphate (ATP). Every cell uses ATP for energy, and it is necessary for collagen and elastin production (which naturally decreases as we age).
Electrical Muscle Stimulation
EMS (Electrical Muscle Stimulation) exercises the muscles by contraction and is particularly beneficial for hard to rejuvenate areas such as the neck. Electrical Muscle Stimulation is a therapy also used by physical therapists to strengthen muscles with an electrical charge. This electrical charge mimics the contraction of your muscles by your central nervous system, and can tone and tighten muscle fiber. Added to skincare technology the current is used to tighten and lift by generating warmth and muscular movement that is necessary to stimulate collagen production. This helps to maintain a more youthful appearance by diminishing the appearance of wrinkles and fine lines.
Radio Frequency
The RF (Radio Frequency) function uses bi-polar energy to generate heat. RF is especially suitable for targeting loose skin on the neck and wrinkles and lines. Radio Frequency works by delivering heat to the tissue below the epidermis, where fibroblasts that stimulate collagen production are located in order to tighten the skin on the face and neck giving it a more taut appearance.
Electroporation and Mesoporation
Mesoporation , not to be confused with Mesotherapy, uses pulse alternating currents to generate temporary channels for passing active ingredients into the skin. In combination with electroporation (EP) the product is diffused by using an electrical pulse and can be delivered into the skin with no needles and no downtime. The benefits are a better visibly refreshed and improved skin hydration.
LED

This wonder facial is capped off with a superior LED (Light Emitting Diode) function that has 6 different colored options to treat a wide range of skin care conditions. Light Emitting Diode therapy (LED) uses varying wavelengths of light that help with the regeneration of the skin.
The Red Light LED is used to help stimulate the fibroblasts that produce collagen, and is primarily used for aging treatments. The Pink Light improves healing and circulation while the Blue Light targets the bacteria that contributes to acneic skin conditions. Add the Yellow Light Therapy to target age spots and uneven skin tone. All colors combined this LED Light Therapy adds a fairy tale ending to this excellent EMS skin rejuvenating treatment.
Treatment Serums

Institut' DERMed Corrective Serums with Active ingredients are applied prior to EMS and RF mode during the treatment. These act as a conductor delivering active ingredients deeper into the skin throughout the treatment and helping to hydrate while creating the famous "Dermed Glow".
The best part is – this treatment is safe for all skin types and there is absolutely no downtime!
Keep in mind that while you will visibly see a difference after one EMS treatment best results for energy based treatments are always achieved over a series of several treatments.
The overall result immediately after treatment: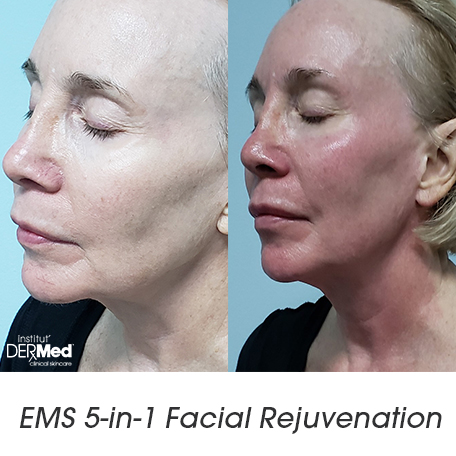 – Tightening
– Toning
– Improve the appearance of wrinkles
– Brighten dull skin
– Create smoother skin
– Achieve improved product penetration
– Improve skin circulation
– Assist lymphatic drainage
– Firm lax skin