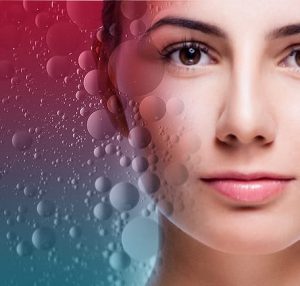 "NanoFacial" is a term we have been hearing a lot recently, usually in reference to a treatment modality that utilizes a hand held wand (or pen) oscillating at a calibrated speed to act as an infusion catalyst for skincare ingredients. The purpose of the treatment is to increase efficacy of the products applied during treatment. In brief, the key to how it works is the premise that in breaking down "bulkier" ingredients to a more refined option that will allow for greater permeability. This process is of course not exactly new, iontophoresis, an electric-based delivery of nutrients, was first proposed in the mid 18th century as a method for more in-depth penetration to the skin. Due to the electrical charge, the skin can absorb the ingredients more effectively.
What is exciting today is that nanotechnology is advancing in the formulation of active ingredients themselves, meaning that this greater permeability can also be accomplished without the use of tools and is built in to the product itself. Nanotechnology has been around for some time – in fact the first patent holders in the U.S. date as far back as 1998! It is a very exciting field that is still developing.
Nanotechnology in topical skincare products is defined as a particle that acts as a vehicle to assist the ingredients in product formulations with increased penetration, hopefully leading to greater efficacy of the product. Cosmeceuticals have long been the fastest growing segment in skincare and nanotechnology is now an exciting delivery system for these active ingredients. These "nano-cosmeceuticals" have emerged as the defense frontier in skin rejuvenation with the encapsulation of ingredients that protect and enhance effectiveness.
Nanosomes are a major breakthrough in skincare applications. A Nanosome is tiny and can slip beyond the surface of the skin with minimal resistance. When nutrient rich ingredients are fully absorbed through the skin this nourishment produces more dramatic effects. Nanosomes are used to deliver protectants as well as nutrients such as antioxidants and proteins. Proteins derived from stem cells are one example of nano-cosmeceuticals in skincare. These proteins can now be encapsulated allowing for an uncompromised delivery. Other nanomaterials such as nano-capsules are also a very effective delivery system for ingredients such as retinol.
Liposomes are a transdermal delivery system whose previous success is well known for encapsulating active ingredients. This has led to a slew of other nanoparticles that help to increase the penetration of these products into the layers the skin. This is particularly helpful in product formulations for treating conditions such as cellulite, where the best success rate occurs when active ingredients can be delivered to where cellulite forms. Nanoparticles are also being used to protect encapsulated ingredients such as vitamin C, helping to prevent oxidization and the effects of exposure to UVA and UVB light while nourishing the skin at the same time.
The rewards of incorporating nanotechnology into cosmetics are many, in particular helping to safely reinforce those structures between the epidermis and the dermis, improve skin cell respiration, and promote stronger fibroblasts and collagen production. The benefit is restoring a tight, firmness to the skin, providing an ageless look, an improved texture and a more even skin tone as we get older. Now who doesn't applaud that?
Current examples of nanotechnology applications in Institut' DERMed clinical skin care include:
– Micro encapsulated Retinol – Vital A Serum
– L-Acorbic Acid – Vital C Serum
– Lipsomes – Cellulite Rx
– Titanium dioxide and zinc oxide, utilize nanoparticles to block ultraviolet rays. – Brightening Moisturizer
– Apple Stem Cells – Anti-Oxidant Peptide Lifting Serum to help deliver ingredients where they are needed to prevent the appearance of aging of the skin. These proteins are encapsulated in liposome nanoparticles.
Read more about nano technology in skincare in our Institut' DERMed Healthy Skin Lifestyle Magazine July Issuu: