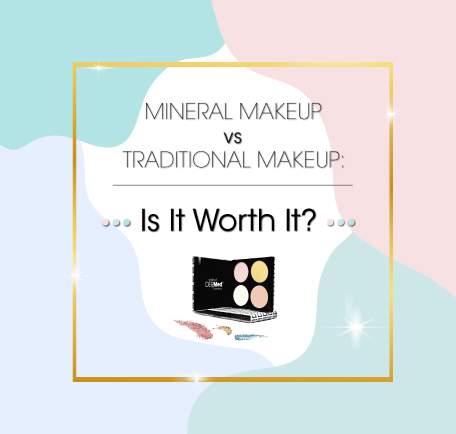 Guest Post by Jordan Kesler L.E.
So what's the deal with mineral makeup? Does it really matter what kind of makeup I am using as long as I am cleaning my skin and taking my makeup off every night? I invest in my skincare regimen isn't that enough, why do I need to spend more on my makeup?
These are the questions that we frequently ask ourselves when thinking about investing in and finding the makeup products we have been advised are better for our skin.  It's only natural (no pun intended) then, that you might be asking yourself "Is it worth it"?.
There is a lot of talk about makeup nowadays, especially regarding the makeup that can make or break your daily skincare regimen. Some is positive, some is negative, but the hard truth is that a lot of the hardcore facts are purely ignored. So here is a skincare specialist's take on why mineral makeup could be better for you than traditional makeup in the first place:
Traditional makeup is known for creating that full-face glam makeup look, which is great if that's what you are going for, but it can also look and feel heavy. Institut' DERMed Cosmetics Mineral Makeup is "formulated with skin nurturing anti-oxidants that provide excellent natural coverage with the combination of skin care without the heavy clay found in most mineral foundations." Quality mineral makeup will always feel light on the skin, and you can choose to layer for your desired coverage so it will never look or feel caked on.
But, what IS the deal with "minerals" anyway?  Well, minerals in general deflect light. Think of those shiny rocks sparkling at the bottom of a creek, these rocks are deflecting the sunlight and that's exactly what happens when you wear mineral makeup. The light is deflected away from your skin helping to prevent the appearance of dark spots and premature aging. Not to mention how it covers acne blemishes without clogging the pores and instead draws attention to your best features.
Won't the mineral makeup just slide off my skin? A common misunderstanding about mineral makeup is that it doesn't last as long as traditional makeup. The truth is not only is mineral makeup incredibly easy to apply, but it doesn't melt or sink into your pores like traditional makeup often does. Since mineral makeup is made with highly concentrated earth pigments, you only need a small amount for it to be long wearing with a super light feel.
Most people think that there is just no way mineral makeup can really improve your skin that much. However, mineral makeup formulas, (the Institut' DERMed Cosmetics line included), are designed specifically to hide discoloration and reduce the look of pores and uneven texture all while improving the appearance of fine lines and wrinkles. Mineral Foundation is non-comedogenic, paraben-free, fragrance-free and oil-free. Plus, the formula includes UV blocking ingredients like Micronized Titanium Dioxide and Zinc Oxide. As stated previously minerals are highly concentrated pigments already, making it a makeup category that only requires lighter application techniques and one of the best choices for people who have acneic, aging or sensitive skin.
No matter your skin type – mineral makeup goes on, sits, and works well. Sensitive skin can particularly benefit from the lightweight coverage and UV blocking ingredients. For dry skin the light coverage lets your skin breathe and stay moisturized. For aging skin mineral makeup won't sink into the creases in your skin's fine lines and wrinkles so it doesn't emphasize the signs of aging. For the more oily/acneic skin types, mineral makeup doesn't settle into your pores causing them to clog with unnecessary components, therefore making this a non-comedogenic alternative to most traditional makeup.
Is It Worth It? Absolutely! Mineral makeup ranks among some of the finest healthy skin makeup products available today to complement a good clinical skin care regimen.
Sources: