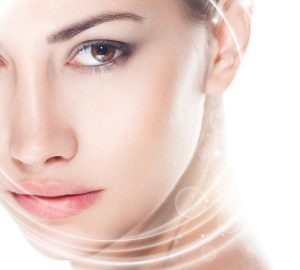 Collagen rejuvenating treatments are based on the principle that the skin has a natural abilitiy to repair itself whenever it is subjected to any kind of physical damage.  Immediately after an injury such as a cut, burn or an abrasion our body goes into a healing response and part of that response mechanism is to produce new collagen and elastin fibers.
Collagen is the main protein found in our bones, muscles and tendons.  It makes up 75 percent of our skin forming the scaffold that strenthens our connective tissue. There are several different types of collagen but two types in particular, Type I and Type III Collagen, are responsible for the majority of our skin's regeneration.  When the skin is injured Type III Collagen begins the healing process and is followed in the later stages of wound repair by Type I Collagen, which is stronger and more resilient.
As children, our skin is rich with Type III Collagen. This is why a child's skin is soft and supple, enabling it to repair very quickly when injured. As we enter adulthood production of Type III Collagen slows and the production of Type I Collagen begins to increase. Type I Collagen continues to build until we reach the age of around thirty-five and then starts to decrease.
This is when true aging begins. Existing collagen degrades and the formation of new collagen decreases.  Due to this reduction in collagen our skin becomes thinner and less elastic, pore size increases, facial spider veins and sun damage become more apparent, fine lines begin to appear, wrinkles become deeper and our skin loses its natural youthful radiance. These issues then become steadily worse as time progresses.
Collagen production can, however, be stimulated with what we call a controlled injury.  When the face is cut, for example, Type I and Type III Collagen are released to repair the wound. This is the body's normal wound-healing response.  It is this normal wound-healing response that treatments such as Micro-Needling, RadioFrequency, IPL and Clinical Peels are based on to naturally increase the production of collagen in the skin.
With the presence of new collagen the skin's condition begins to improve.  It becomes plumper and suppler, wrinkles and scars diminish,  skin tightens,  uneven skin texture is smoothed, pore size appears smaller, and blemishes fade. With each treatment more new collagen is produced and the overall quality of the skin continues to improve.  
What are the after effects?
Topicals for home skin care maintenance are recommended to extend results and of course to continue to protect the collagen you have.
Vital A Serum contains L-Retinol that helps to promote collagen production and slow down the loss of elastin in skin tissue. The exfoliation effect of Vital A Serum also removes the dead skin cell layers and improves acne as well.
Vital C Serum (ascorbic acid) is essential for the synthesis of collagen.  In fact collagen cannot be built without vitamin C and its antioxidant properties make it a vital ingredient for skin health.  Studies have shown that maximal absorption in the skin is achieved with a 20% vitamin C solution. Although not a suncscreen Vitamin C is also recommended for it's antioxidant activity that limits the damage caused by UV exposure.