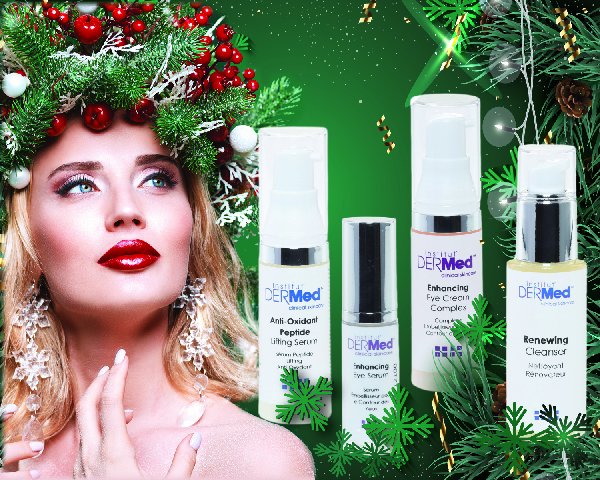 The festive season often brings with it a feeling of overwhelm which can lead to visibly stressed skin. Combine that with a colder, dry winter air and your complexion can quickly decline into a dull dehydrated appearance or a compromised flakey one. So don't neglect yourself or your skin this year. With just a few steps, you can instantly feel good by brightening and revitalizing your skin this feel good season despite the environment.
Here are some of our best Holiday Tips to Keep Your Skin Sparkling and Your Inner Glow alive
1. When the level of humidity in the air drops, your skin experiences more transepidermal water loss (TEWL). Drinking lots of water daily will help to rid the body of toxins and moisturize your skin's cells from the inside out.
2. If you aren't using a daytime serum under your moisturizer – now is the time to add that into your regimen. A serum such as the Institut' DERMed Anti-oxidant Peptide Lifting Serum contains hyaluronic acid and peptides that supply serious topical cell hydration throughout the day. Indulge yourself or add it to your stocking stuffer wishlist!
3. Skin is usually where the first signs of aging appear and nowhere does that appear faster than around your eye area. If you are not getting enough sleep, a common occurrence for most of us during stressful times, then your eyes may look puffy and have dark circles. Try to decompress at least an hour before bedtime every night for a better rest. If sleep does tend to be elusive, at least sleep in an eye serum that's like a nighttime mask for the delicate skin around your eye area. The Institut' DERMed Enhancing Eye Serum – formulated with Spin Trap (PNB) and Corn Silk Extract will help to minimize the appearance of fine lines around the eyes, so you wake up with smooth skin and a visibly more brilliant eye area.
4. For daytime use you'll love the Institut' DERMed Eye Cream Complex. Packed with breakthrough anti-aging eye ingredients such as Eyeliss, Haloxyl and Matrixyl, this luxury cosmetic product makes for a great all day solution to miminize the appearance of dark circles and keep your eyes looking smooth and bright!
5. Thoroughly cleansing your skin every night with an AHA (Alpha Hydroxy Acid) cleanser such as the Institut' DERMed Renewing Cleanser formulated with Lactic Acid is one of the best ways to help protect your complexion from environmental stressors and age acceleration.
With the holidays upon us, you also can't go wrong using this list to shop for all the skincare lovers in your life. Who doesn't want the gift of radiant, youthful looking skin? Even the pickiest of our friends appreciate help to target signs of aging, boost collagen and skin hydration. You and your friends will feel good every time you use these Institut' DERMed skincare essentials.