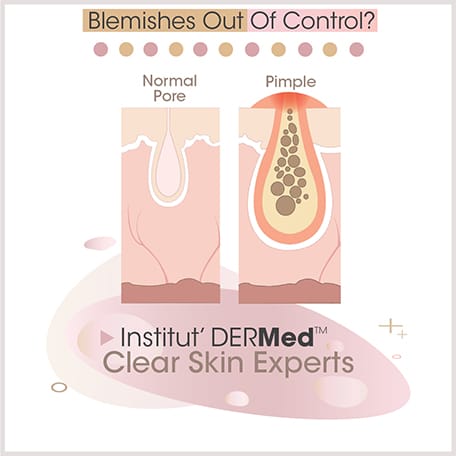 Acne Education Month
Acne usually appears in the teenage years, but some people begin to have acne in their 20's or 30's and sometimes Acne is a skin condition that stays for a long time! There are several reasons for acne: an increased production of sebum from sebaceous glands, abnormal increase of cornification in the hair follicle, proliferation of P. acne bacteria, genetic reasons and inflammatory reactions.
There are also several types of Acne – which are classified in grades from 1 to 4:
Whiteheads: stay under the surface of the skin. (Grade 1)
Blackheads: oxidized sebum trapped in the pores. (Grade 1)
Papules: small pink bumps that can be tender. (Grade1-2)
Pustules: red bumps at the bottom with pus on the top.(Grade 3)
Nodules: large painful solid pimples deep in the skin.(Grade 3-4)
Cysts: deep painful pus-filled pimples can cause scars.(Grade 4)
Acne affects approximately 17 million people and is the most dermatologic condition treated by physicians and estheticians within the United States. There are a number of treatments on the market today to treat acne these range from anti-biotics, to facial treatments such as chemical peels, to Laser, and most recently – INTRAcel  RF Microneedling. These treatments are effective for treating the symptoms of acne.
In the Spa pore clarifying treatments combined with home care topical products are very effective in diminishing the appearance of acne prone skin. Acne means oil control is a must. The Institut' DERMed Clarifying Infusion Facial is recommended for combination, oily, excessively oily and congested skin types. This clarifying deep pore cleansing facial is designed to reduce the appearance of oily, congested skin with the clarifying ingredients necessary to help achieve a confidently clear complexion.
Long term results can be achieved with a skin care regimen at home containing oil controlling ingredients: a cleansing facial wash containing Salicylic Acid and Tea Tree Oil helps acne prone skin decongest pores and remove oil, and a weekly Clarifying peel formulated with Pumpkin Enzymes and L-Lactic Acid combined with a weekly Clarifying Mask formulated with BioFense Probiotic® and Lichochalcone® will absorb oil and decongest pores ensuring your skin will remain clean and clear. It's important to note that a gentle oil-free moisturizer is important to help restore moisture balance.
Acne can be a complicated condition to get the balance just right. There is no one size fits all which is why we recommend you always consult with a skin care professional who understands this condition for a personalized approach to your skin health!